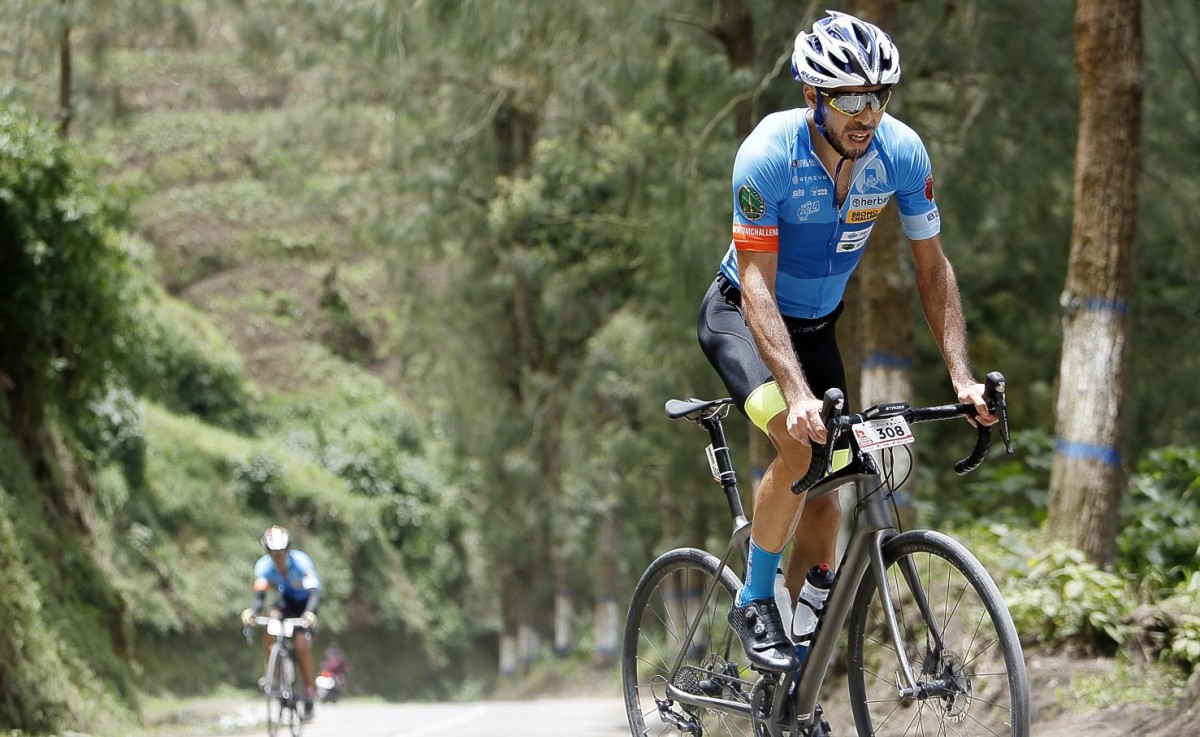 Volcanic ash was in the air; a mini eruption 2 days earlier had covered the summit and finish area with a thin layer of ash, reminding us that Bromo, the HC mountain our race features, is an active volcano.
It was hot (what else to expect in the tropics?!), my Stages recorded 36° C, and a scorching 40ish in the foothill: "Bromo KOM's hottest edition" (said MainSepeda.com) 
Sweat was running down my forehead; saliva was dripping down my chin; I couldn't care less! 
This is what you trained for, I reminded myself, as I glimpsed the fading 2-men breakaway. I was the chase; a podium finish was not in the bag, but became ever more obtainable.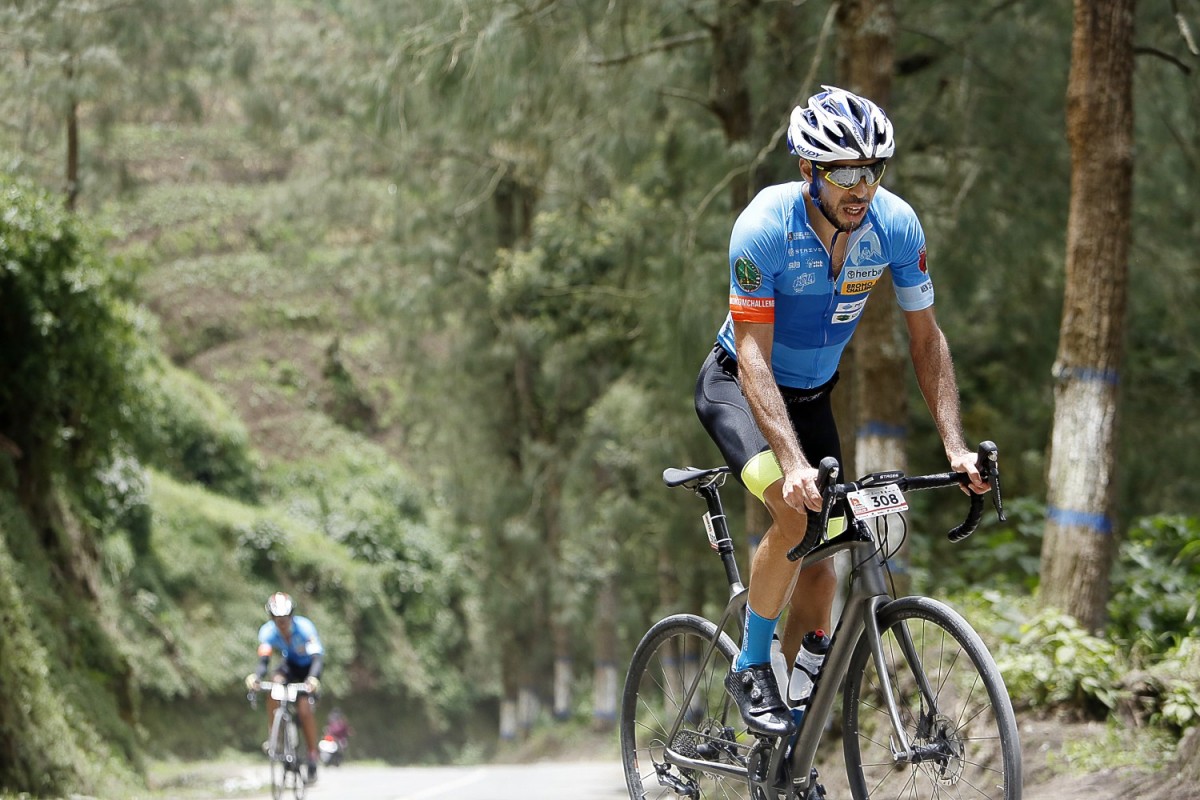 Why?
"Why were 1,148 cyclists climbing a hot 25km-long and 1800m-high volcano?!" would be a subjective philosophical question with 1,148 answer.
My friend (and road captain) Bjarke Rasmussen, in his beautiful piece: "You ride because" listed around 39 reasons; most of which I related to were about love and dreams:
- Because you love it
- Because you love even more the sound of a hundred things humming together in the quiet moments of a race
- Because the bike is your language
- Because you miss the hurt
- Because you dared once to dream, and you don't ever want to stop
The Dream
It all started 2 years (and 4.5kg) ago, when I raced JawaPos Bromo 100 for the first time and it ticked all the boxes:
1. Punishing yet honest: One of the longest road climbs in Indonesia, its mere length, relentless gradient and summit finish offer nowhere to hide; there is no such thing as "Hide in the bunch then sprint to the line".
2. Safe: Proper traffic management and race course design. When you care about safety, you don't place the finish at the bottom of a mountain and ask people to race down a treacherous descent (or through a busy downtown). Duh! Sounds obvious? I've seen (and avoided) such events.
3. Well organized: From basics: a timely start, proper neutralization and escort; to more technical details like: neutral mechanical service and feed zones. 
No wonder; Azrul, the man behind this race, is a passionate lifetime cyclist, and AASOS, the team mobilized to pull this event together, are no strangers to suffering on two wheels.
As a long-distance triathlete, my cycling fitness and physical build at the time were suited to a single specialty: Long ITT's on rolling terrain; I knew how to tuck in aero position and hummer for 90 to 180 km (then run). While some aspects of Time Trial are useful in a long climb: (a) High Aerobic Endurance, (b) Skill of pacing a sustainable intensity and (c) Mental discipline to stick to it; Other key aspects are different: Climbing is mainly about Power-to-weight ratio. 
"You don't look like a climber", my Zakarin-looking cycling buddy Sasha told me after the race.
"I agree, I'm a time-trialist" I answered.
Yet to my surprise, and after a painful solo TT, I crossed the fog-covered line and was given a Card that said "King Of Mountain - Potential Winner" … For real?! 
I knew I was out of TOP 3 (2 min behind third), but those 2 words told me enough:
"Winner": I'd love that!
"Potential": You have the potential son! Try harder next time!
"I love this mountain. I'd like to come back and win this one day", those 2 words sparked a dream. 
Sure enough, I hung that card in my "Hurtlocker" to remind myself during my training sessions.
I couldn't return in 2018, the event's date clashed with Sungailiat Triathlon (where I had to defend my title), but when the 2019 edition was announced, I immediately booked my calendar and made Bromo KOM Challenge my first quarter's "A Race".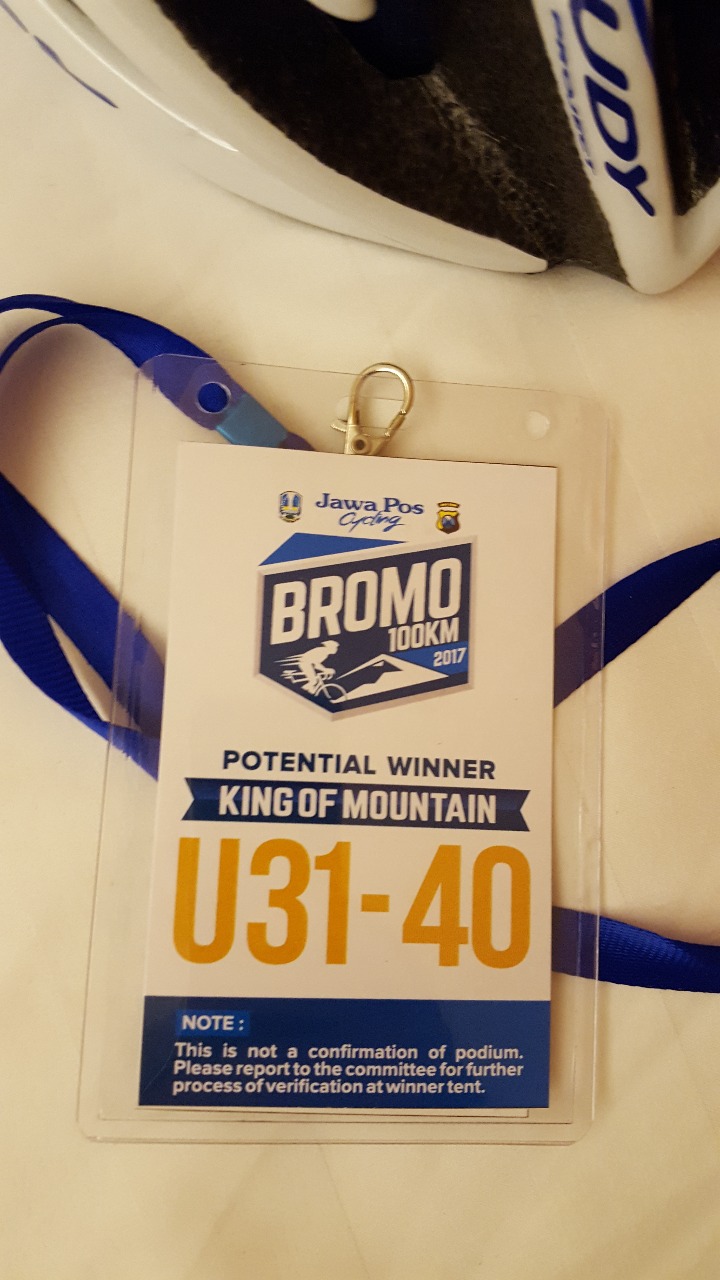 Quality Training
Unlike other race types, an "A Race" means: Periodized Structure, Specificity, Focus and Patience (not only to tolerate pain, but also to resist the temptation of excess)
I had to transform myself from a Time-trialist / Triathlete to a Long climb cyclist; so for 11 weeks, I embarked on a specific prep, that built and peaked my cycling fitness for the event without exceeding my training time budget of 14h/week, over 90% of which were executed indoors on  Zwift. The same Quality-focused approach I use in my Tri training and coaching, but cycling-focused this time, while putting running and swimming in "Maintenance mode", so I don't start over from scratch when time comes.
That's 154 hours of Quality time on the bike, that included:
1. 12 Long rides (7x4 hours + 5x2 hours 20 minutes) to build Aerobic Endurance and Fatigue Resistance. All of them with my 3R team.
3R stands for: Ride, Race, Raise. A team of strong and selfless cyclists with big hearts and high pain tolerance, that supports the World Bicycle Relief charity.
2. 11 Alpe du Zwift climbs to peak specific Muscular Endurance. 
"AdZ" climb (12.44 km / 1,036 m gain) simulates the legendary Alpe D'Huez pretty successfully: the same 21 hairpin switchbacks and gradient; except that it's much hotter in my "Hurtlocker"
3. 7 Zwift Training Races to sharpen fitness and add race stimulus: From a flat "Fast & Furious" 10 km, a harsh 28 km uphill ITT, to a strenuous rolling 100 km.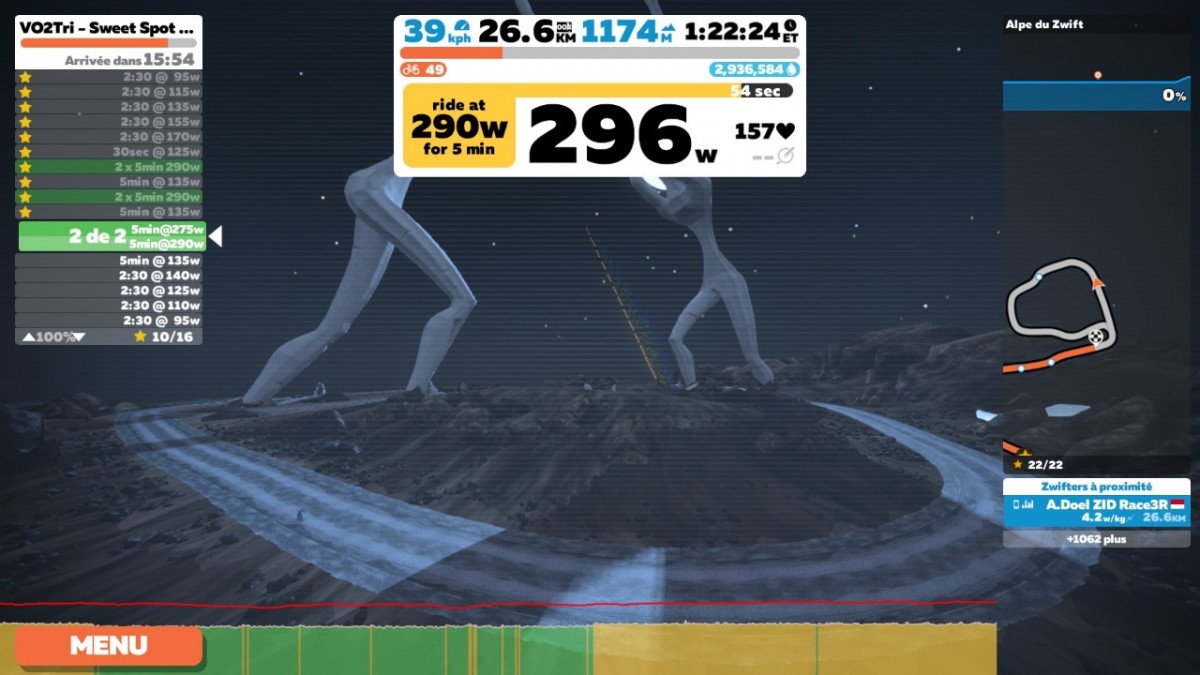 4. A solid 3-days Mini Training Camp with my Surabaya-based friend "Big John" 7 weeks to race-day:
Day 1: Race course recce in a Surabaya-Wonokitri-Surabaya roundtrip (204 km / 2,100 m)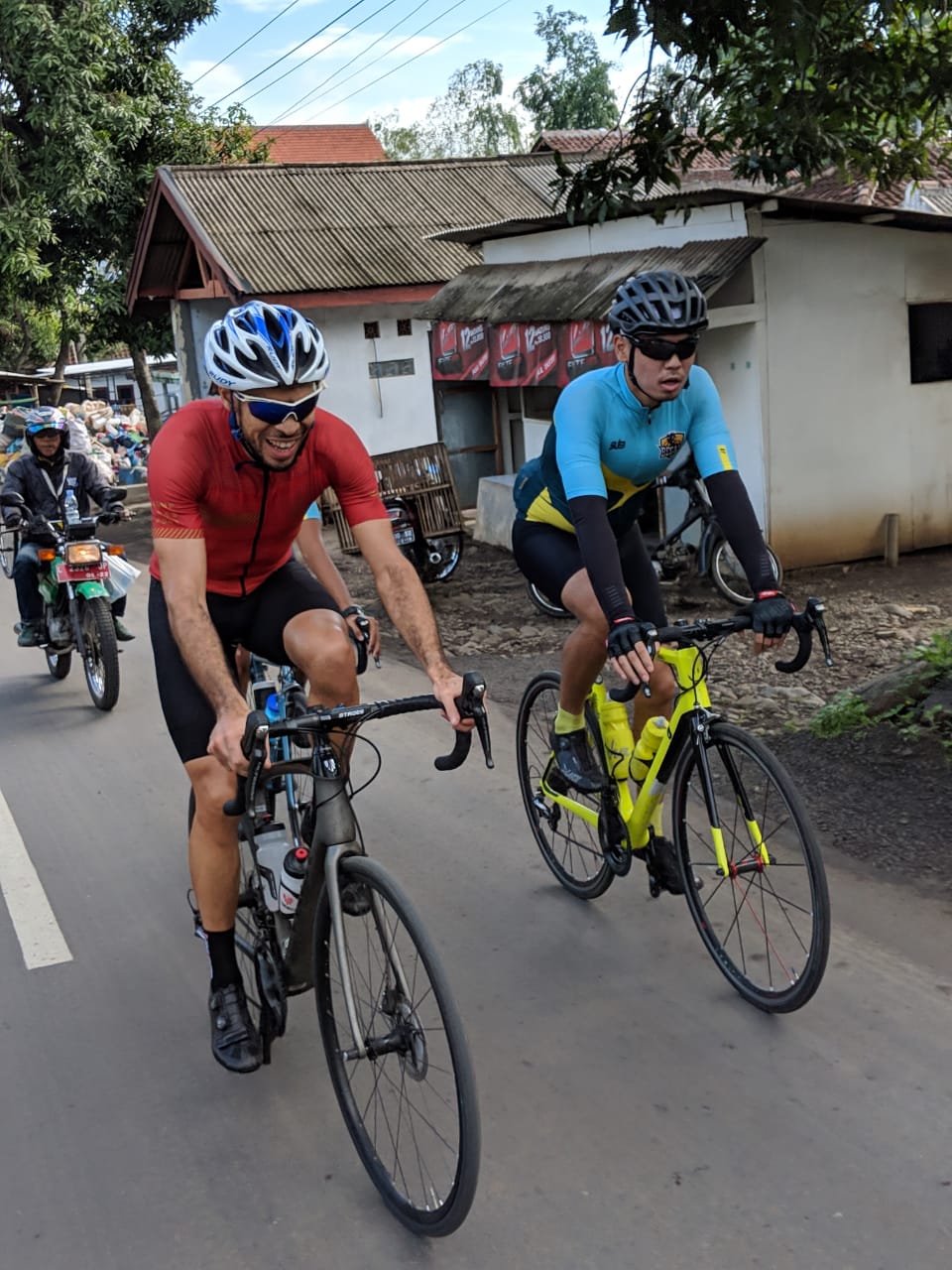 Day 2: Surabaya-Kandangan-Malang (146 km / 1,400 m)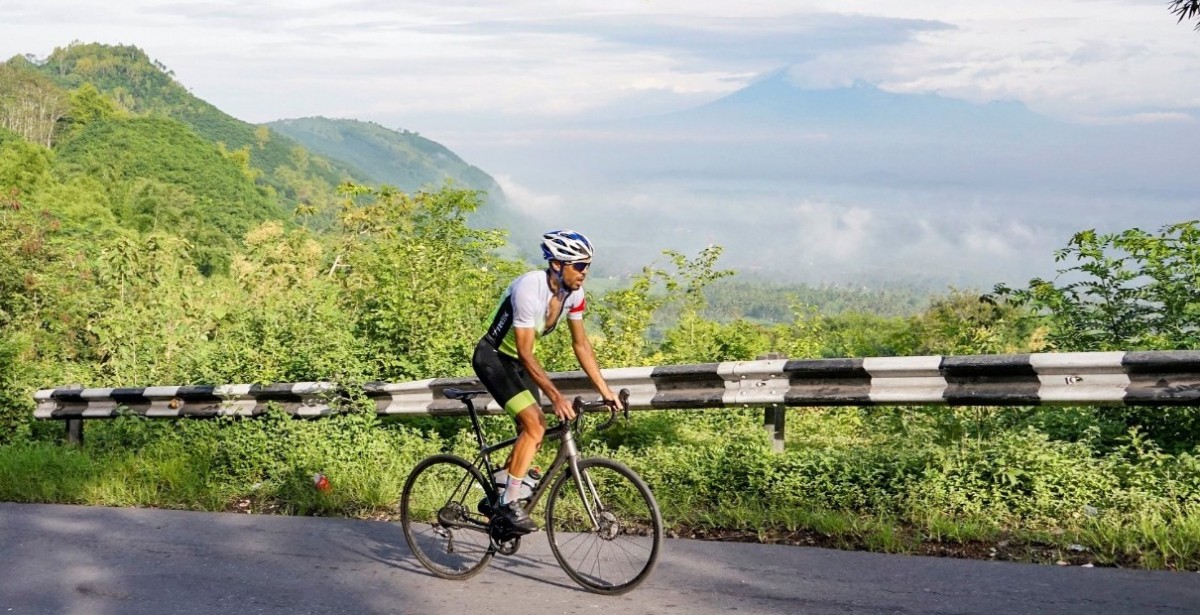 Day 3: Trek Century Ride 4 Malang-Pantai Ungapan-Malang (168 km / 1,700 m)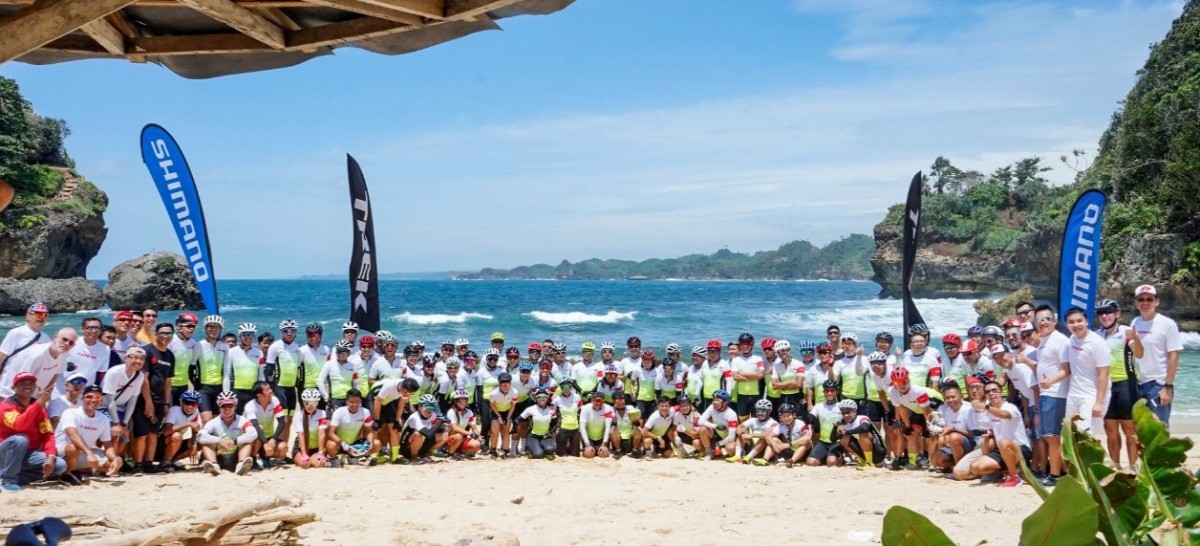 5. A Ciawi-Rindu Alam Race intensity simulation climb to close Peak block and start Taper (23 km / 945 m)
Don't go to battle without a plan
And out of all mountain battles, Bromo is an Hors Catégorie, read: "The least gentle"; underestimate it and it will beat you up and leave you empty on the side of the road. 
Planning an important race means figuring all these out:
1. Goal: Whether it is "Finish before COT" (Cut-off Time), "Avoid TTB" (Tuntun, dismount and push, Bike) or "Improve a PB" (Personal Best), defining a clear, ambitious and achievable goal will get you out of bed, keep your training on track and motivate you on race day.
2. Course Management: What is the course like? Length, profile, gradient, road surface, weather …
3. Intensity: How hard will you ride each section of the course?
4. Nutrition / Fuel: What will you eat and drink before and during the race? How much? How often? Onboard and/or from Feed(/Water) stations?
5. Equipment: From frame, gear ratio, wheelset, tire width and pressure, to kit, helmet and eyewear
6. Mental Game: What will keep you going strong when your legs complain and lungs protest?
More details go into Planning but figuring those 6 out is the core of any Race Plan.
When the Gun Goes Off!
1. FINAL 24 HOURS
Convenience was part of my Race Plan: booking a hotel strategically located next to Build-a-Bike Surabaya and a couple of km's from the Start (Kodam V). Mas Abdul, assembled and fine-tuned "Émonda La Grimpeuse" nicely while I checked in and carbo-loaded. She was in good hands!
Also part of Race Plan: Testing her out in the short commute to/from Wdnsdy Café, where they give you: a smile, a fitting jersey, a chip, a race number and a "Setrip" bar (a.k.a. Strive).
Zdenek (a.k.a. Stybar, my friend, cycling buddy and travel companion) met me at 5:15 for a Petit déj des champions. Fueled, doped and ready to roll!
2. FLAT AND NEUTRAL
- Surabaya to Pasuruan (60 km)
- Pasuruan to Pasrepan village and race start (15km)
Just like riding out of Surabaya in a 4-figure blob wasn't spectacular enough, the peloton's diversity and cheers received were simply inspiring: The "Good Luck's" and "Podium Doel!" were from Banjarmasin, Lampung, Manado, Malang, Surabaya, Jogja, Bali, ... While many recognized me from Instagram and Strava, others knew me from Watopia: Zwift platform and ZID community brought us together; Bromo KOM put faces on the usernames and avatars.
Saving legs by generating the least possible watts was my target in this 75 km (2 hours 50 minutes) segment; I complied with double-digits wattage and sub-30 percent IF (Intensity Factor). Slack!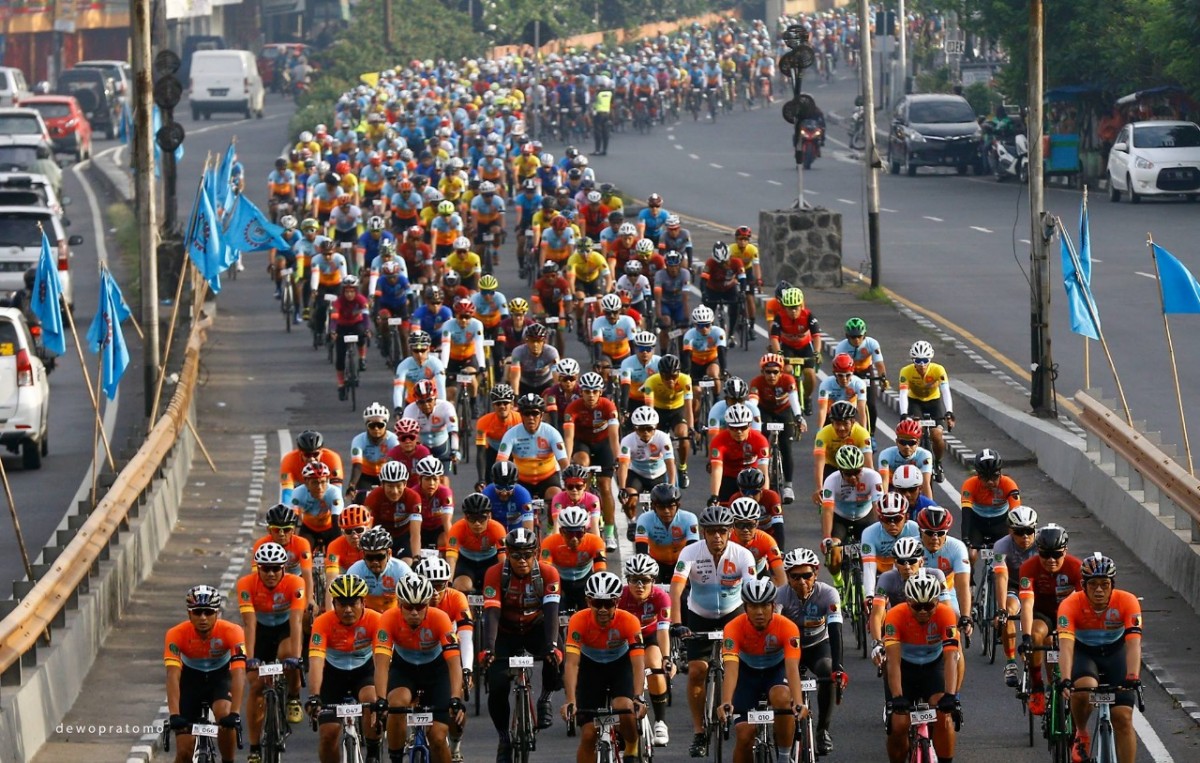 3. (ANTI-) FIREWORKS
You'd be familiar with fireworks if you've started (or watched) any road race: Fresh legs, overflowing hormones, the flag is off and beasts are unleashed. 
Starts are critical: If this was a flat course (where drafting is key), this would've been a "Make it or break it moment". But this is NOT flat; burn your matches this early and you'd be left empty later when it really matters. I'm "anti-fireworks", because:
1. I know the line between Sustainable and Into-the-red, but also: 
2. I trust science: The power ranges in my Pacing Plan are the result of years of measured and analyzed training, dozens of tests, successes and failures. What was a recipe for suicide last week wasn't going to turn into "Sweet cake" overnight. 
4. STICK TO PLAN
Which meant letting the main pack go wild and chasing it at a steady power complying with my max intensity for Segment #1 (out of 4 on my plan).
4km later, and after passing many dropped riders, I saw, then made contact with the Masters grupetto which had thinned down to 15 men or so by then, and was picking up some dropped yellow jerseys (Elite Cat.).
5. GROUPETTO MENTAL GAME
Unlike Time-trialing, Road Cycling involves a critical tactical dimension: Group riding with competition; Reading the group dynamics, positioning within it, using it (physically and mentally) when it's useful, ignoring it when it's too comfy or too snappy. I had to do all of that over the next hour of racing: 
- I let it snap (while keeping it in sight) when some felt too peppy in the first half.
- I used its slipstream when they rolled within my target intensity range
- I led it when they rolled below that range
- I flicked my elbow when my rear wheel was being sucked for too long
- I called out "Bekerja sama!" (Indonesian for: Teamwork!) when my pull through signs were ignored.
- I ignored the wheel sucking and just went on. 
The truth is: I wasn't expecting anyone to work with me. There was still a breakaway in front and falling in the trap of "I'm too proud to give you all a free ride" would've been immature:
- I under-pace, I'd under-achieve; the breakaway wins, I lose.
- I stick to target pace and pull, albeit with passengers, I'd achieve my watt target and maybe, just maybe, finish in Top 3.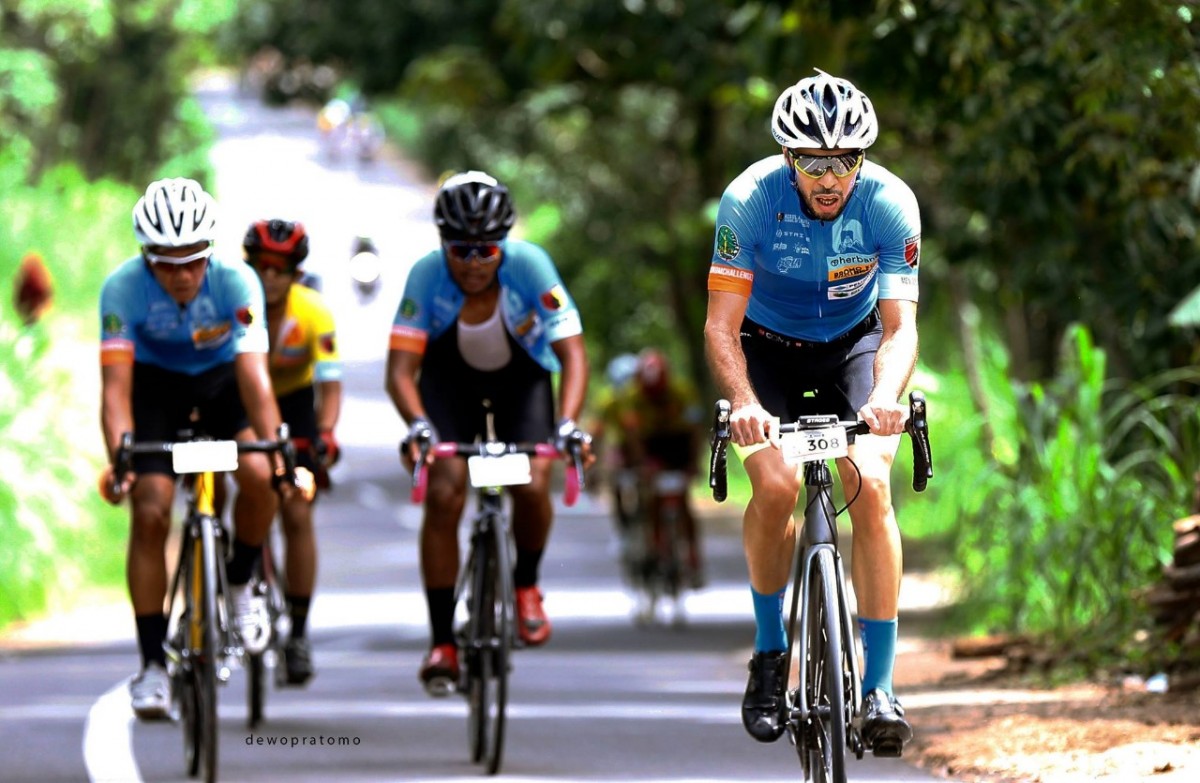 6. THE TUNNEL 
If Bromo was a full-course meal, its main course is only served after km 10: Gradient steepens, bodies overheat, muscle fibers shout and glycogen depletes.
After giving up on flicking elbows, I entered a long tunnel where everything faded and quieted down, everything except the sounds of lungs panting, cranks pedaling, chains shifting up and down cogs and the blur of riders in the horizon. 
Deep inside that tunnel, who's still there? I looked back at a switchback: 6 riders. 2 km's later: only 2, Alex, the Malaysian my pre-race intel reported as "Strong and to be watched", with another rider: "Only 2 still ahead" he said. I heard that before, … then took advantage of this exchange to cajole them out of my rear wheel and try to get a turn out of them, but in vain; Whatever! Back into the tunnel.
7. ATTACKED
With 3 km to go, only Alex was left in my wheel as we glimpsed the fading breakaway up the +10% slope and that's where my climber-built rival attacked. For real or just a bluff? Can he sustain this to the summit after sitting in my wheel over an hour? I stood out of the saddle letting Émonda dance right and left, passed Mat and sighted his breakaway companion further ahead.
8.HOW BAD YOU WANT THIS? 
Sweat was running down my forehead; saliva was dripping down my chin; I couldn't care less! 
This is what you trained for, I reminded myself. A podium finish was not in the bag but became ever more obtainable.
In the cheat sheet on my top tube were numbers for each Segment (NP, IF, Km's, …), but also a couple of "loud and low-IQ-friendly" keywords:
When I hit the flattish 700m before the last "wall", the keywords were: Big Ring. Aero Tuck. Power Up. Last Gel.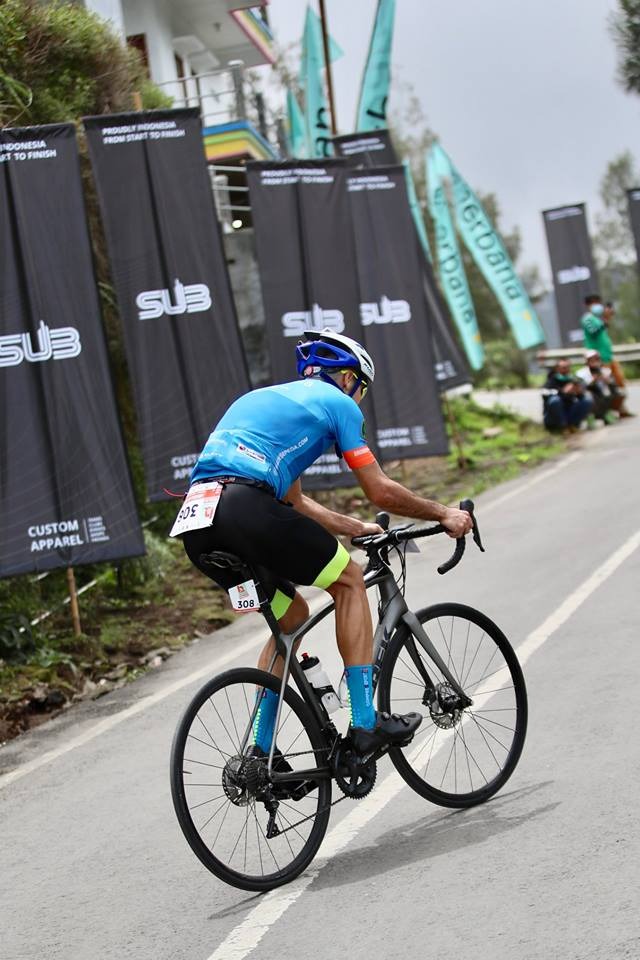 That's where I passed Edy (MCC Kudus), with a burst launched few bike lengths behind, a match well-spent: I didn't know what he had left in the tank and didn't want my slipstream to tempt him.
Keywords for the last mile read: All Out. Empty. Hassan: My inspiring mentor whose life was dramatically taken two weeks before the race (details in link).
Worth EVERYTHING!
Whether it's an Ironman Triathlon, a Marathon or a TT, "Finishing Empty" is my last mile's Ordre du jour in any race; the self-reproach won't let me sleep otherwise.
While I never lost sight out of Alex and gained time on him in the flattish section that favors me (physically), he gained time on me in the steep "wall" that favors him. With nothing to hold back for, we both played our cards to the line and I crossed it second, 31 seconds behind.
There is something grim yet almost mystical about Bromo KOM's finish line: Just like 25km of climbing was not enough, the gradient kicks to 15% in the last 200m. Even inside the last 100m, you can hear a buzzing mix of crowd cheers and a blasting MC but don't see the line until you take a left curve and the ever-foggy finish gate finally immerges.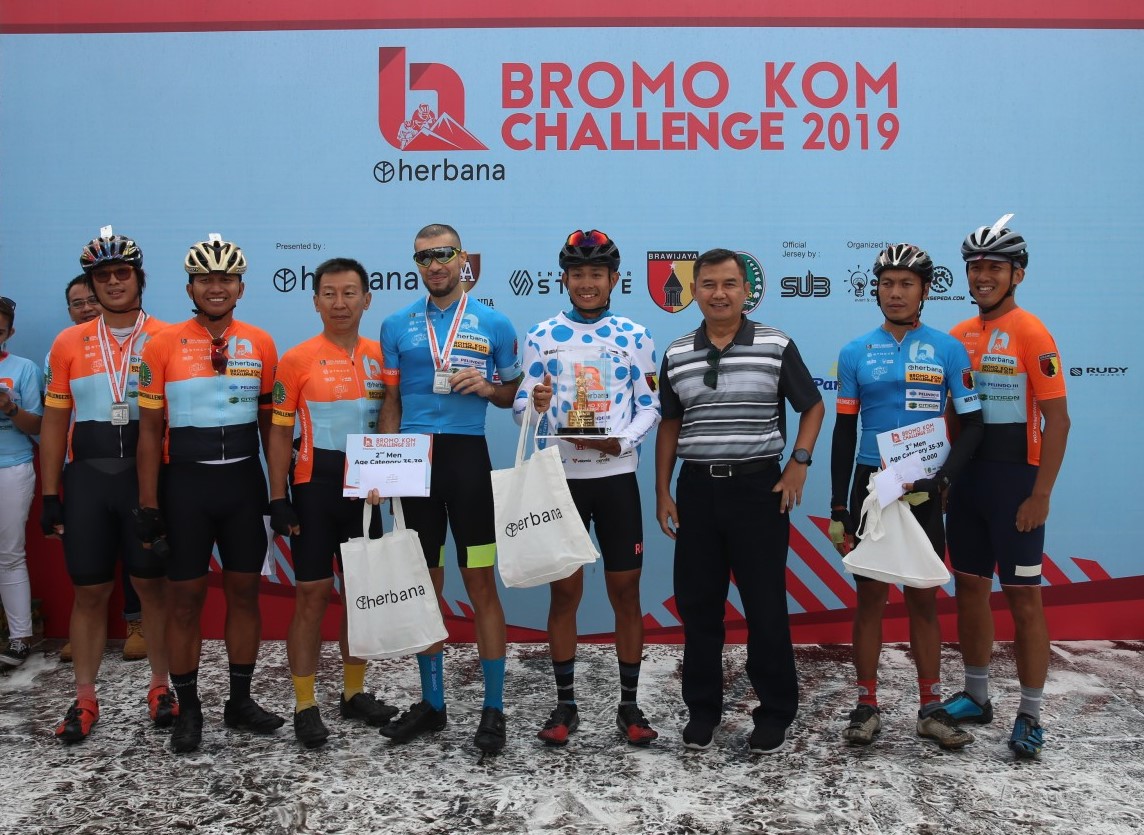 I crossed it empty, wasn't handed a "Potential" card this time, but Yudy walked towards me and said: "Congratulations! You're second Master Overall!" A breathless hug followed. Alhamdulillah! The podium dream sparked 2 years ago came true, and it was worth everything: the sweaty "Hurtlocker" stubbornness, the ups and downs, the geeky analysis and planning … That was my hardest 93 minutes on a bike (New 90min Power Best)  and those 31 seconds are motivation to come back stronger next year insha'Allah!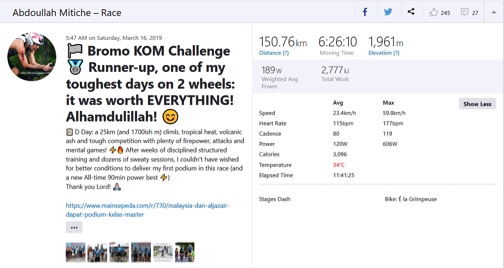 NUTRITION
Finally, how to fuel hundreds of hours on the bike (and recover from them) is as critical as the training itself. How to fuel for a bike race can make or break your big day. 
Previous articles I posted addressed the nutrients (macro and micro) required in Endurance events (and training sessions), and outlined fueling strategies; but here are some guidelines and personal choices in Bromo KOM Challenge:
1. D-1
A. Brunch
Guidelines: Biggest meal of the day. High Carb (favor complex carbs)
What I had:
Breakfast: Medjool Dates, Long black coffee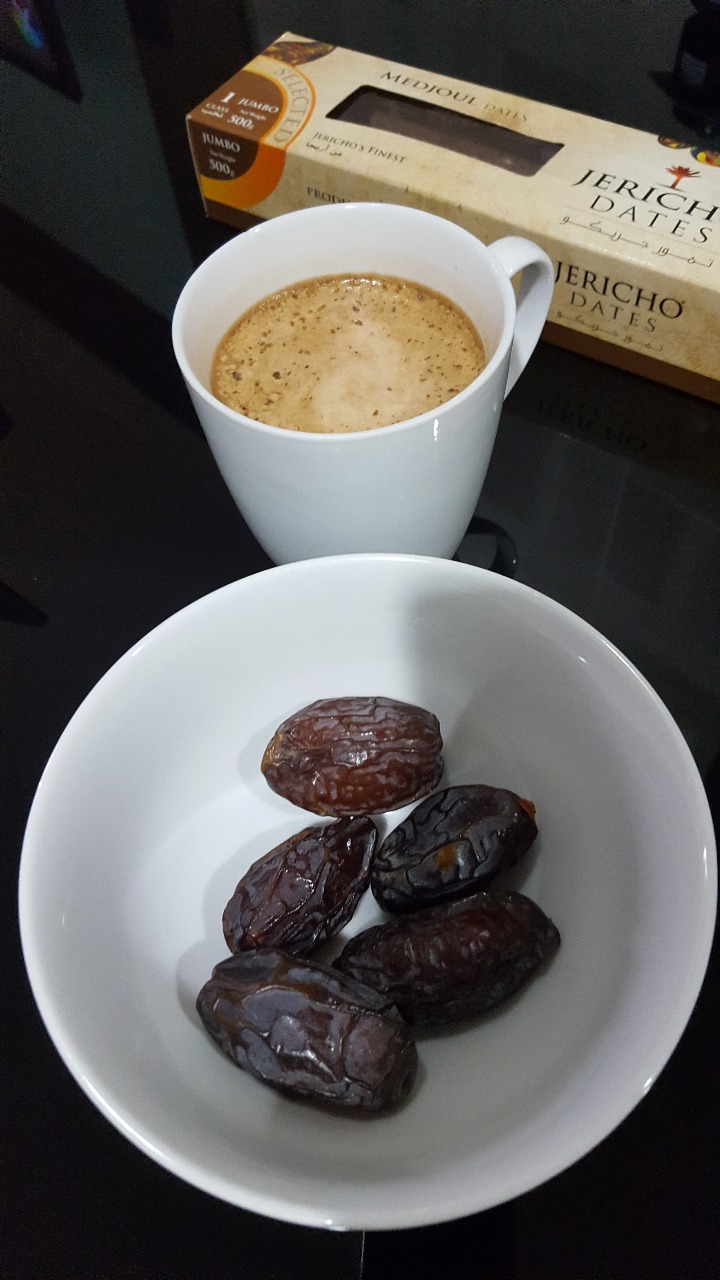 Lunch: Lontong (rice cake), grilled chicken breast, omelette with veggies, nuts, Lulu dates, tea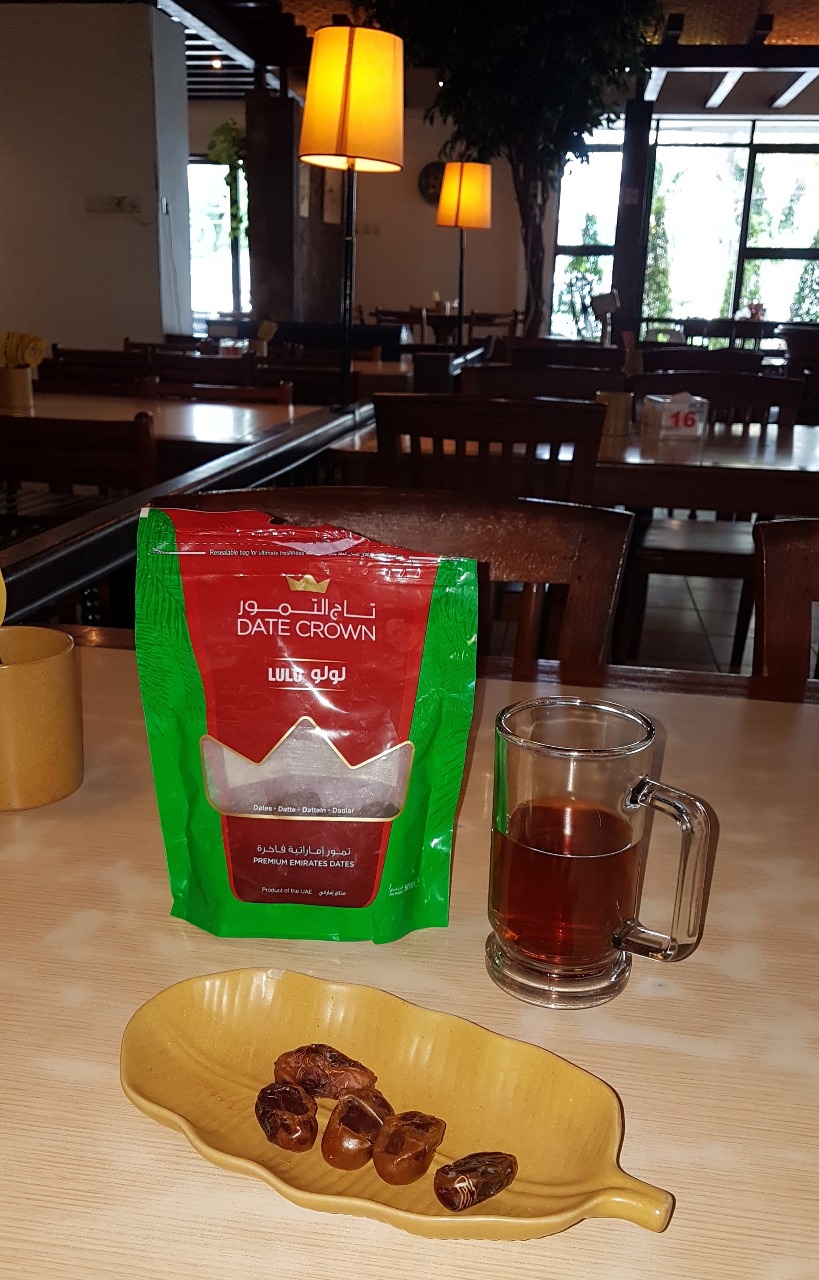 B. Dinner
Guidelines: Early. High Carb. Low Fiber. Easily digestible Protein. Micronutrients. Safe
What I had: White rice, grilled fish, kangkung (water spinach) with garlic, and more dates
2. RACE DAY 
A. Breakfast 
Guidelines: Early. High Carb (Mix of fast and slow-burning Carbs). Low Fiber. Simple. Familiar
What I had: Omelette, 2xDouble-shot flat white coffee, peanut-butter toast and dates
B. Lead-in (60km out of Surabaya and Pasuruan Stop)
Guidelines: High Carb (favor simple carbs). Low Fiber. Electrolytes. Caffeine (if applicable)
What I had: Fluids (water, Pocari), bananas, more coffee
C. Race
Guidelines: High Carb. High GI. Minimum Digestion. Portability. Electrolytes. Caffeine (if applicable)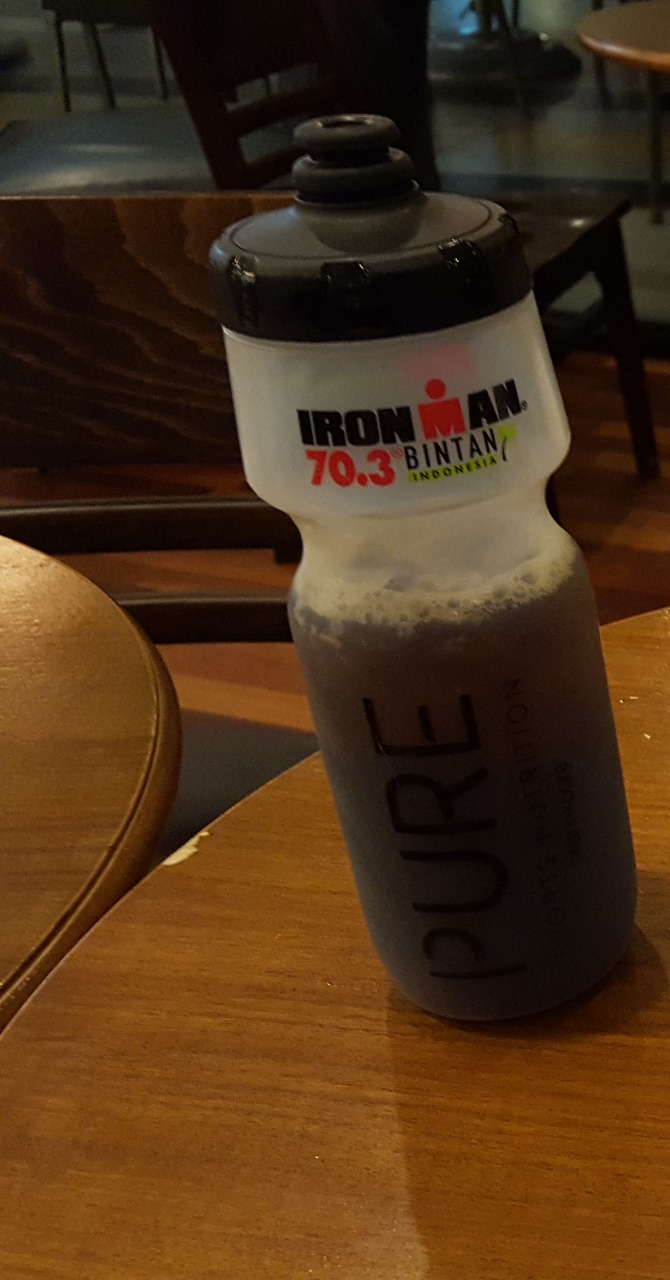 What I had: Fluids (Water, Pocari), pitted dates, Caffeinated gels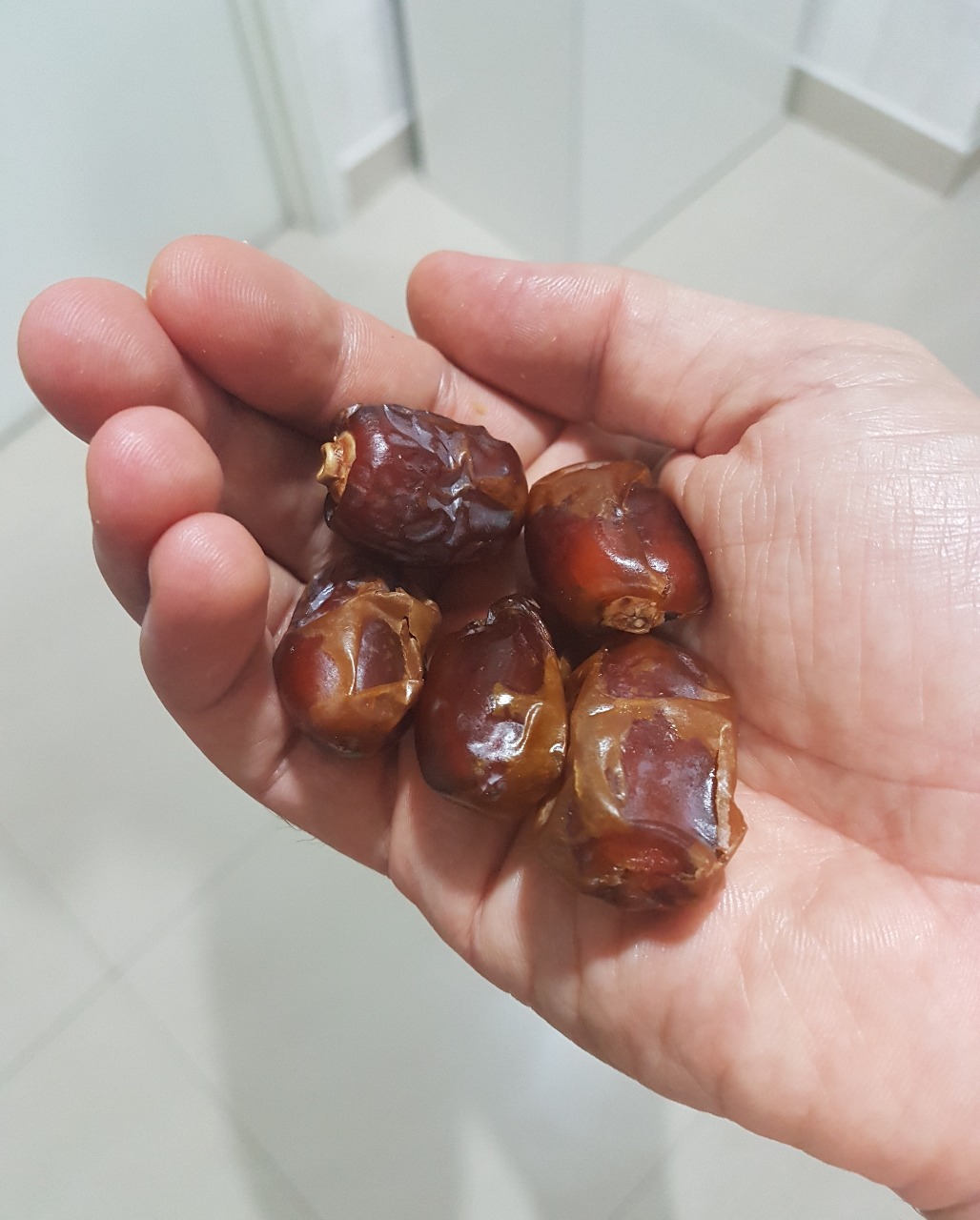 D. Post-Race:
Guidelines: High Carb. High Protein. No more caffeine (Stop it junkie!)
What I had: Tahwa (Tofu pudding in ginger syrup), Sate (Ayam, lontong, bumbu kacang): Grilled chicken with peanut sauce and a pinch of Bromo volcanic ash, the world's tastiest sate, I probably had 4 dishes.